From Fins to Memories – and Back Again
by Dan Perley
I was born in Ottawa, Canada in 1955 as the North American auto industry was building towards what was perhaps its high-water mark, sometime between then and the 1959 model year. Certainly, 1959 marked the maximum height of fins and of course Cadillac had the highest and most glorious of all, but as a young boy my interest and imagination were captivated mostly by the soring (if plain) vertical tail fins of the 1957 Plymouth and the equal-but-horizontal fins of the 1959 Chevrolet. Actually, these two were symbiotically linked because when General Motors management saw the 1957 Plymouth …. (whose sales slogan was "Suddenly it's 1960"…) they totally freaked and we all know the result of that, as discussed above. By the time we moved to a new house in the very hot August of 1959 I was the proud owner of Dinky Toys' 1957 Plymouth Plaza four-door sedan (in two-tone blue, but it also came in green and salmon) and also a dark-blue Corgi Toys 1959 Chevrolet Impala 4-door hardtop.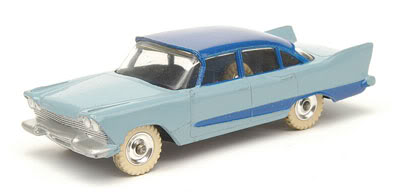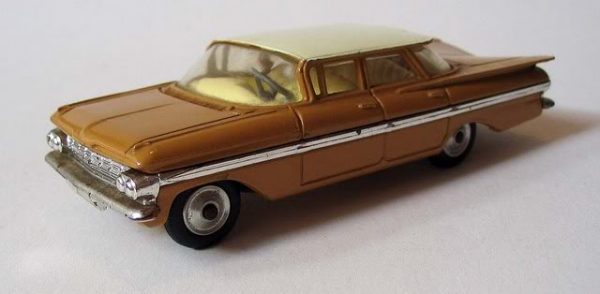 Our new house had a big front porch and underneath it was a huge bare dirt area where my new friends and I could make roads and drag strips for our model cars. Every two weeks, on his payday, I would sit by the window waiting for my dad to arrive home because on that day he always took the street car (later the bus) a couple of blocks further south so he could stop by the local hobby shop and buy me a new car. In those days, Dinky and Corgi – and their little brother Matchbox – all of which were based in Great Britain offered a staggering array of cars, trucks, buses and even airliners in miniature and they were almost as popular as baseball cards for trade items at First Avenue Public School.
Since my dad was quite regular about this practice, my collection of cars, trucks and buses eventually grew to more than a hundred items including 1957 Dodge and Desoto sedans, but unfortunately no further 1959 Chevrolet products even though Corgi offered a whole fleet of them. Maybe they were just trying to save money – or maybe (being British) they just didn't get it that the top-line Impala 4-dr hardtop simply was not used as the basis of many police cars, fire chief cars or taxis – usually that distinction went to the lowest-cost four-door sedan in the product line, in Chevy's case that year it was the Biscayne Fleetmaster, a strippo car lower in trim than even the basic bottom-line Biscayne, but to which one could add the heavy-duty police package or taxi package.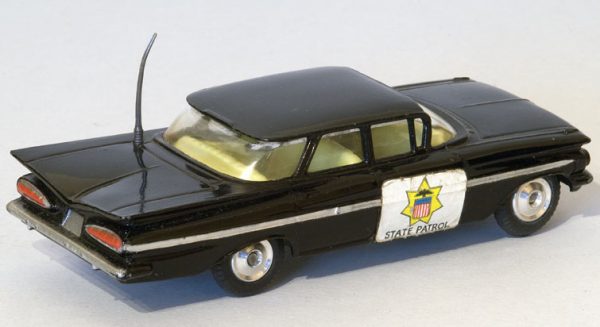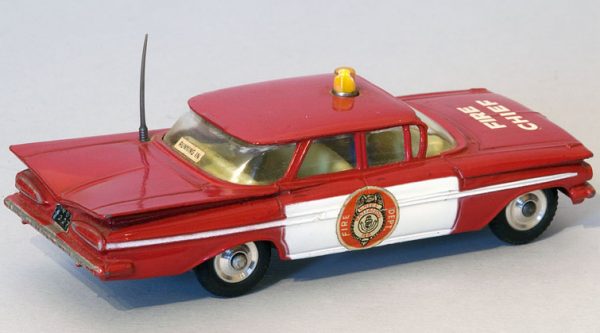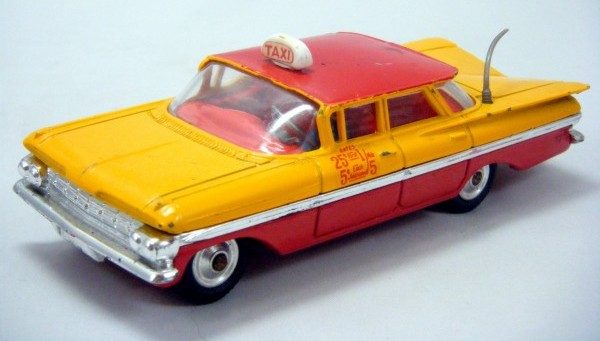 Since the hardtop and the sedans had different roof-lines even as a four-year-old I knew that something was rotten in Denmark – or more precisely in the U.K.
Nonetheless, my early exposure to all of these little metal cars greatly perked my interest in also drawing them and my very first car drawings were of the rear fins of the 1959 Chevrolet and the somewhat more muted fins of their 1960 successors. As I grew older, my Dinky/Corgi collection topped out at about 150 items, but by then I was also buying 1-25th scale plastic car model kits from AMT, Johan, Revell and others and devoting considerable attention to building and painting them precisely to showroom (stock) condition. Since these cars were about five times larger than Dinky/Corgi cars there was not enough room in the basement of our new bungalow (by then we had moved out to the country) for hundreds of them, so I settled on some choice picks like the 1964 Dodge Polara coupe, 1966 Pontiac Bonneville 2-dr hardtop (even though we could not buy it in Canada), the 1968 Chevrolet Impala 2-dr hardtop, a Lincoln Continental 4-dr sedan plus a bunch of others.
True too, by this time I was starting to count down the days and months until I could begin officially driving real cars and my own first car was a 1966 Chrysler Windsor 4-dr sedan bought from my dad. Soon though, in 1981, I became the proud owner of a 1950 Chevrolet Special Fleetline 4-dr sedan which came with less than 19,000 original miles on it and was to be my pride and joy for more than two decades. More recently, I owned a beautiful red 1961 Chevrolet Impala 4-dr hardtop with a red interior and yet another hobby car is in my not-too-distant future.
What a joy it is, though, to see some of these Dinky and Corgi cars offered in practically new condition on the Internet today. Sure brings back a lot of memories for me.