Silver Marks Overview
Many volumes have been written about hallmarks and maker's marks on silver. The most important thing to remember is that just because there is a mark on something that looks like silver, does not mean it is silver. The best way to start is to see if you can identify the country of origin.
There is always a lot of information about British silver because they have the oldest continuous marking system. The illustration is an overview of their marking system. Keep in mind that small items did not always have full hallmarks.
Currently, only London, Birmingham, Edinburgh, Dublin, and Sheffield assay silver. English Sterling silver is .925 fineness (92.5% silver).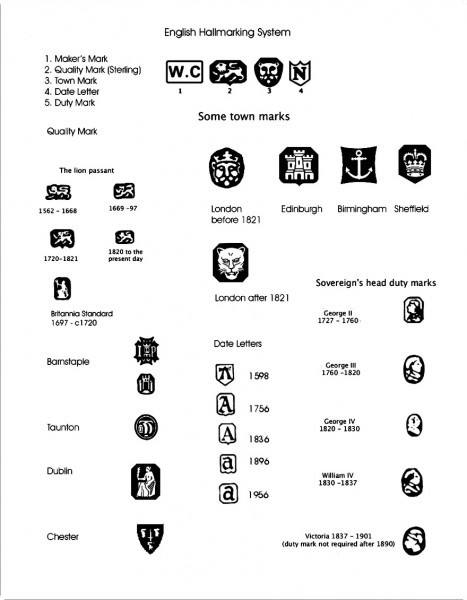 The French system of marking silver has changed several times. They had two standards for silver. The first is .950 (95% silver). The second is .800. French marks are very small but it is usually fairly easy to see that the shape of the lozenge around Minerva's head is an octagon for the 1st standard and a barrel-shape for the 2nd standard.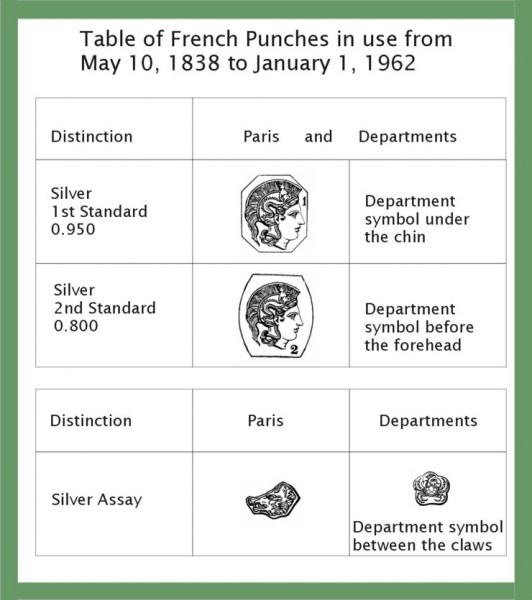 The boar's head was used to designate a Paris assay, the crab mark was used for other cities with an additional mark between the claws to indicate the city of assay (often to small to read even with a loupe).
French silver maker's use their initials inside of a lozenge since 1797. 

In 1962, the boar's head was no longer used for Paris. Paris uses the crab with no department mark.

Since 1973 the French changed set one standard for silver at .925 fineness. The chart above is an excerpt from Estate Jewelry, 1760-1960. 
All About Antique Silver with International Hallmarks has the complete hallmarking systems for 24 countries, including England and France.  Both books are available for purchase in the on-line store.
The United States does not have assay offices. (We are very nice, we will take your word for it until you get caught.) While American silversmiths have added their own marks as a guarantee of quality, there were no federal requirements for marking silver or gold until 1905. The words "Sterling" could no longer be used on any item less than .925 fineness, including the solder.
Manufacturers devise their own maker's marks. Below are a few of the more prominent manufacturers.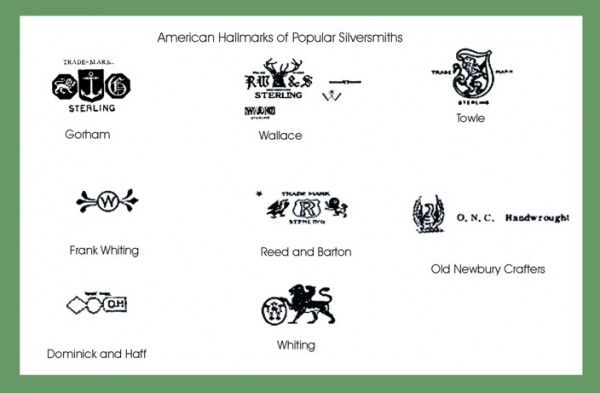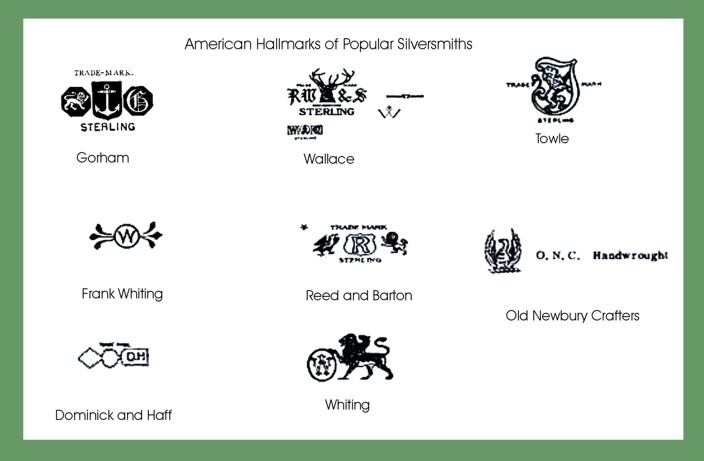 There is a great web site for silver hallmarks research called 925-1000.com.
A second source is silvercollection.it.
There are also some Silver Tips about dating flatware.